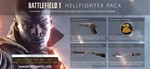 Instant delivery !! IMMEDIATELY AFTER CONFIRMATION OF PAYMENT YOU !!

ATTENTION! the basic version of the game Battlefield 1 has to be activated for your activation key

After payment of the order, the system automatically (without us) instantly send you mail a link to download a license key activation of additional content for Battlefield 1 - DLC Hellfighter Pack (set of "Hell fighters")

Languages: Multi-language version, there are also Russian
Region: Region free (all countries)
Activation: Origin

Hell Fighters from Harlem has been one of the strongest infantry regiments of the First World War. This kit contains in-game items, inspired by their heroism.

Shotgun Trench Hell Fighters - battered in combat shotgun engraved sign Hell Fighters and the inscription "People in bronze" to the receiver, as well as with the number 369 on the barrel and the slogan "Go ahead and die, France 1918" on a wooden box
M1911 Pistol Hell Fighters - a reliable and versatile gun used today. Your arms will be cut sign of Hell´s soldiers at the gate and the words "People of bronze" on the barrel
Knife-bolo Hell Fighters - terrible blade on which is engraved with the number of the regiment Hell Fighters 369. Seeing a knife, the enemy immediately feel homesick
Symbol Hell Fighters - wear the emblem to show that they belong to an elite squad of Hell fighters and strike terror into the enemies
Activation:
1. Download and install the program Origin (
http://www.origin.com/download
).
2. Start Origin.
3. Select an interface language, and the place where the game is installed.
4. Go to "Origin-activate the product code."
5. Enter key. After that the game will appear in the games library, where you can download it and play.
03.08.2017 13:48:41
Все работает.Отлично
03.06.2017 18:47:47
Все быстро! Супер
27.04.2017 18:29:59
Класс
24.04.2017 14:42:30
товар получил все хорошо
22.04.2017 8:07:05
всё окей сразу всё приходит
24.03.2017 20:12:56
Спасибо за набор, код пришёл быстро
09.03.2017 7:48:10
Быстро,чётко,качественно!